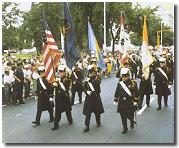 The Knights of Columbus is the world's largest Catholic family fraternal service organization with 1.6 million members. It provides members and their families with volunteer opportunities in service to the Catholic Church, their communities, families and young people.


As a member of the Knights of Columbus you and your family enjoy many benefits, including 12 issues annually of the Columbia magazine, the world's largest Catholic family magazine, eligibility to join the Knights of Columbus top-ranked life insurance program, and many more family and personal benefits.
The membership of St. Louise-Overlake Council supports each other in many ways including supporting each other in faith, community, social activities and our daily needs. St. Louise-Overlake Council publishes a monthly news letter to keep all of our members and families up to date on the latest activities.


Membership in the Knights of Columbus is open to practicing Catholic men in union with the Holy See, who are at least 18 years old. A practicing Catholic is one who lives up to the Commandments of God and the precepts of the Church (Catholic Baptism is required for membership). Application blanks are available from any member of the Knights of Columbus.
You may contact the Grand Knight, or contact the Membership Chairman, Past Grand Knight, Edward L. Uy.


Any Third Degree member in good standing, one year after the anniversary of his First Degree, is eligible for membership in the Fourth Degree. The primary purpose of the Fourth Degree is to foster the spirit of patriotism by promoting responsible citizenship and a love of and loyalty to the Knights' respective countries through active membership in local Fourth Degree groups (called "assemblies"). Certain members of the Fourth Degree serve as honor guards at civic and religious functions, an activity that has brought worldwide recognition to the Knights of Columbus.
Most of the Fourth Degree members of St. Louise-Overlake Council belong to the Rev. William J. Power Assembly [1630]. Assembly 1630 meets in the meeting hall of St. Louise-Overlake Council on the Third Wednesday of each month.


St. Louise-Overlake Council does not have an official "Ladies Auxiliary" however many of the ladies are there to support the council in our work and actives. They do this primarily by providing help at events, cooking for events and providing monetary help. They also generally do help with setting up and beautifying the hall for events.